Chalkboard paint has become the "it girl" of the decorating world lately. It has left the classroom and found its way to preschooler's bedrooms and playrooms, as well as the family bathroom, kitchen and dining room. It is no wonder, since chalkboard paint is easy to use, and can be applied to almost any surface. Because this paint is so versatile, it is easy to create a chalkboard for your preschooler, who will have hours of imaginative fun. An inexpensive accessory that would go well in any room of the house is a recycled window chalkboard.
Supplies
A recycled window frame
Chalkboard Paint
Plywood
Latex Paint
Hanging Brackets
Step One: Removing the Glass
A
safety precaution for preschoolers
is removing the glass from the frame. If you are making a chalkboard window for decoration, for the kitchen for instance, then you can skip this step. To remove glass panes, cover them with a towel and carefully break each pane with a hammer. Be sure to wear safety goggles and protective gloves.
Step Two: Preparing the Frame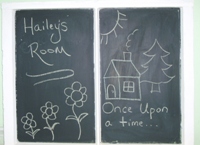 Lightly sand the window frame, to remove any rough edges. If you are not sure of the age of your window, take precaution, it may have been painted with lead paint. Be sure to wear a facemask, and work in a well-ventilated room or outside, and keep small children away from the work area. Thoroughly wipe up all the dust from the window frame and work area once you are finished.
Step Three: Paint the Frame
Paint the frame in the color of your choice. Two coats usually work best. Let dry thoroughly
Step Four: Make the Chalkboard
Measure the spaces where the window panes were. Cut out pieces of sanded plywood a ½ inch larger than the openings. Then paint the plywood insets with the chalkboard paint. Be sure to read the manufacturers directions before you begin. You will need at least two coats of the chalkboard paint to create a durable finish. Let the chalkboard panels dry completely. Using finishing nails, attach the plywood to the back of the frame.
Step Five: Add the Hanging Hardware
Once the chalkboard panels are attached, turn the window frame over. Attach two picture brackets to each corner, for hanging.
Other Decorating Ideas
Paint a chalkboard directly onto your preschooler's bedroom wall. You can add wood trim to give it an authentic schoolroom look.
Paint the panel insets of your preschooler's bedroom or closet door with chalkboard paint.
Use a chalkboard paint that is also magnetic; add brightly colored alphabet magnets, magnetic dolls or cars to help inspire your preschooler!