Best Smoker Grill Reviews
I love backyard grilling! Who hasn't woken up to a nice warm day, perfect for taking out the grill and having a fiery spur of outdoor cooking moments with the family? I mean, there's just something about the blazing charcoal, the sizzling meat, and that tummy-growling smoke!
You can throw a mean rack of sausages, chicken, or ribs while you enjoy football on the weekends and get on with it or try something REAL— something entirely different than the everyday BBQ grilling. Your BBQ never tasted THIS GOOD!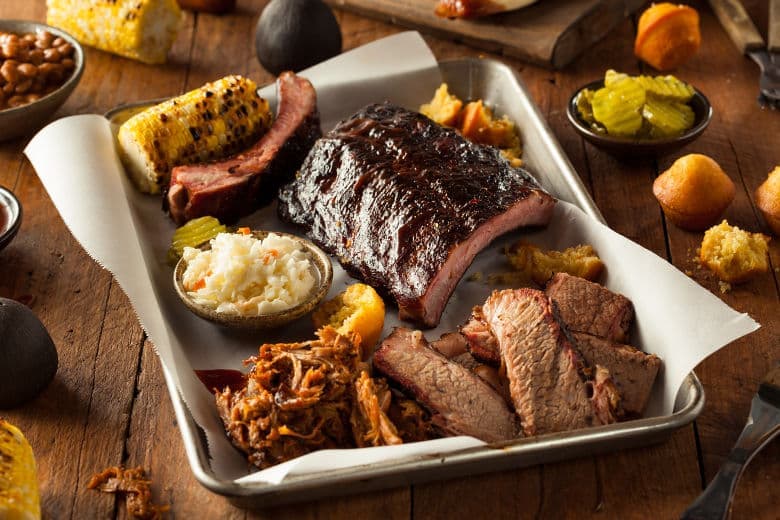 Curious?
It's called smoking.
And smoking, my dear friend, is more of a labor of love and deliciousness. This slow process only means that whatever you are cooking not only takes in all the mouth-watering smoky flavors but also gives you succulent and tender meat that will make your stomach beg for more!
Desperately want that?
Well, you will need to start looking for the best smoker grill in town!
What is a Smoker Grill?
AKA pipe smokers, horizontal smokers, or offset barrel smokers, a smoker grill gives you profound control over the entire smoking process.
This bad boy is the key to getting dreamy, tender, fall-off-the-bone meat with dark and crispy bark— yes, please!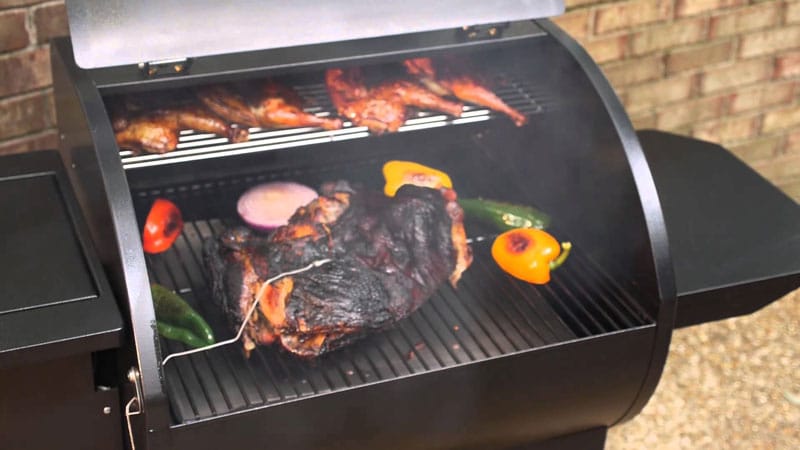 A smoker grill is specifically designed to smoke meats in a long and horizontal chamber and placed alongside the heat source instead of being directly above it. This design makes replenishing fuel and heat adjustments easier since you do not need to move the food out of the way to add wood or coals to the heat source. Attached to one side, the firebox feeds smoke into the cooking chamber.
And that smoke, my dear readers, is what gives the meat such melting tenderness, rich flavor, and crunchy bark on the outside!
Types of Smoker Grill
The market offers four main types of smoker grills— each with its pros and cons and offering of flavor.
1. Charcoal Smokers
There's something about charcoal. And if mouth-watering, tasty, and fall-off-the-bone tender smoked meat is what you see, then charcoal is the best. You can produce such tender meats and explosive flavors and aromas that will seduce your neighbors right away with a charcoal smoker!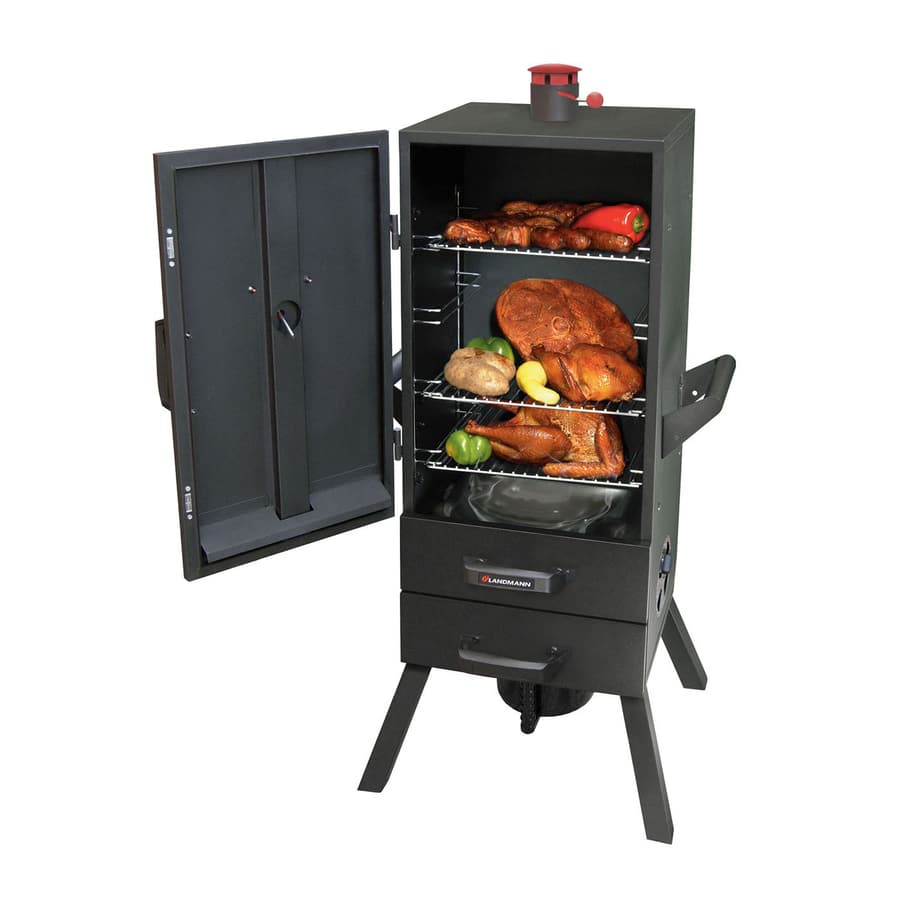 Charcoal smoker grills do not require electricity and gas (obviously) but will require mastery of fire-making using charcoals or briquettes to produce smoke and heat for your food.
It takes practice to get better, but the results will speak— or instead taste— for themselves when mastered.
There are three designs of charcoal smokers in the market today:
Offset smokers
Cabinet smokers
Drum or barrel charcoal smokers
For the aspiring grilling master, a cabinet-style smoker is a perfect choice since they are well-insulated and produce top-quality grilled meat. Offset smokers, on the other hand, can be hit and miss.
An absolute favorite of charcoal enthusiasts is the drum or barrel smoker since they are easy to use, affordable, and provide unique smoky flavors!
PROS
Charcoal produces the best flavor of all smokers
Easily maintain and reach high temperatures
Charcoal is cheap fuel
You can use charcoal in any weather and will produce the same results
Charcoal is available all year-round
CONS
Grilling with charcoal can take longer to learn and master
Messy cleanup
Some buildings and apartments ban the use of cooking with charcoals
2. Electric Smokers
Electric smokers are the best for busy and lazy grillers since they are easy to set up and start smoking with. It is the perfect tool for those who want to plug in something and create genuine smoked meaty flavor, minus the hassle.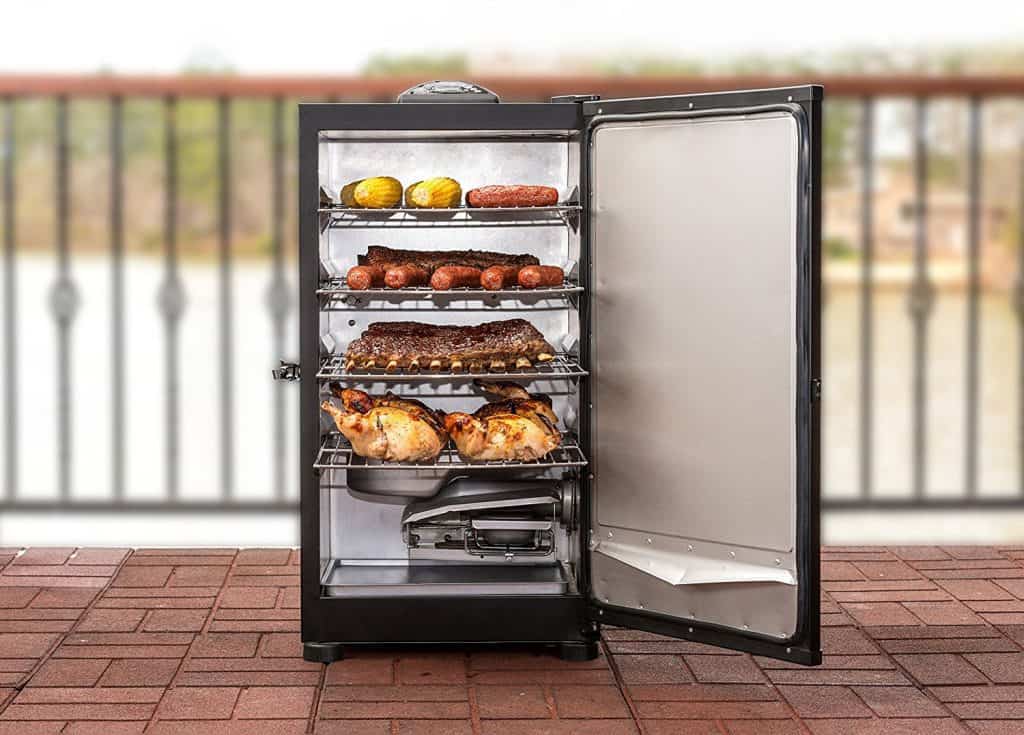 Of course, the biggest perk of an electric smoker is the less worry of tending to the fire and never spending the whole day outdoors with it and instead spending time hanging with the family, watching movies, or entertaining guests.
This type of smoker is best for beginners and does not require much maintenance. You do need to add wood chips to produce the smoke and its flavor. But, you do not have to worry about dangerous gas and messy charcoal.
PROS
Can be used indoor
Easy to control the temperature
Set-and-forget style of grilling
Cheap t run
No need to use charcoal or dangerous gas and dealing with fire
Easy to use
CONS
Limited space since electric smokers are designed for smaller cooks
Not rain-friendly
Low cooking temperatures
The most complex style of smoking since it comes with lots of technical parts
3. Gas Smokers
Gas smokers use natural gas or propane to heat wood chips added to the smoker to produce the smoke. It is another type of smoker that is relatively easy to use and suitable for set-and-forget grilling style.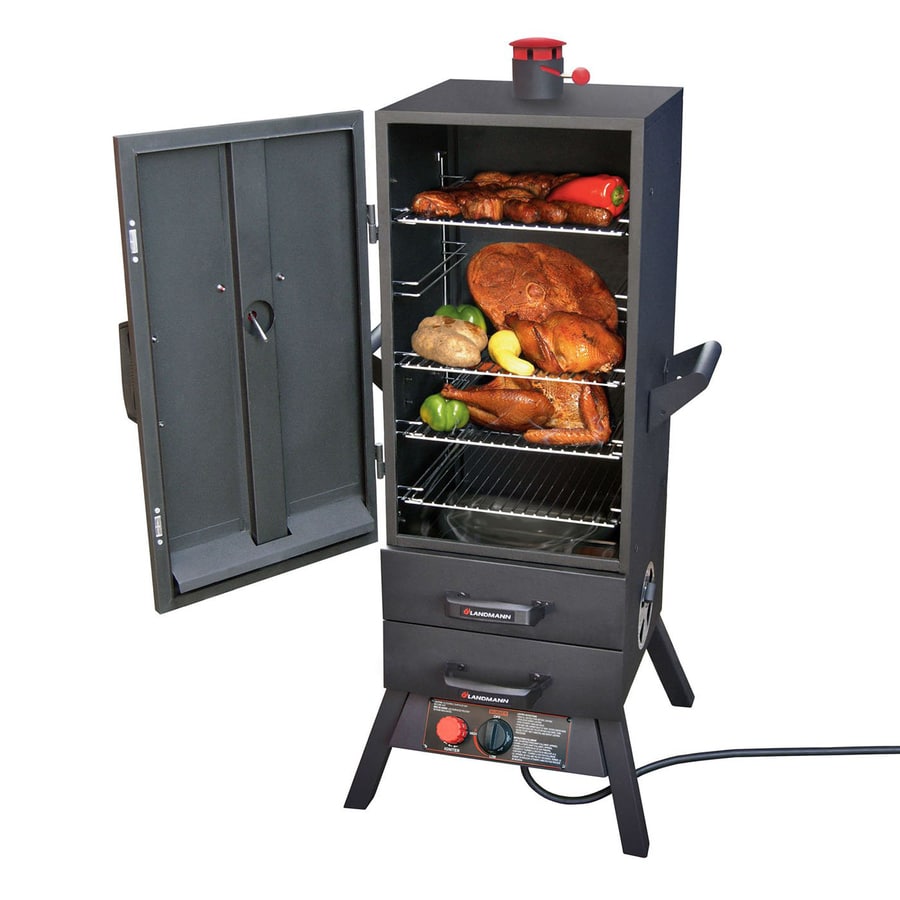 Gas smokers offer similar flavors you get from other types of smokers but with a better taste than electric ones because of fuel combustion.
Gas smokers also allow you to combine the level of effectiveness and affordability of producing great-tasting BBQs.
PROS
Portable
Set-and-forget grilling style
Quick and easy cleanup
Produce consistent temperature
You never need to refuel when using a natural gas connection
CONS
Not versatile since gas smokers are designed to smoke only
Comes with more parts that can wear out or break
Running out of gas or switching propane bottles mid smoking
4. Pellet Smokers
A favorite, pellet smokers, help produce flavorful and juicy meals with various meats and veggies. Because of its design, most models feature dedicated grilling options for versatility.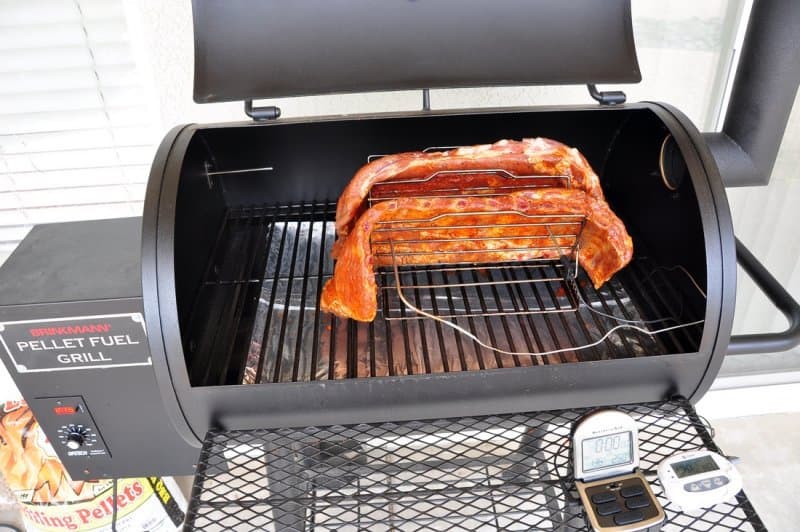 Of all the types of smokers available, pellet smokers are recognized as the easiest to use. Some people even refer to this type of smoker as the "Cheater's Smoker" since they are straightforward to use yet produce great flavors.
All you will need to do is select the cooking temperature, and the smoker will maintain the desired temperature with its temperature controller.
Simple design, a pellet smoker requires you to feed wood pellets to the pellet hopper that goes through a drill, feeding a firepot. The temperature controller will feed pellets as needed to maintain the temperature that you want.
The flavor that pellets smokers offers is tasty and smooth. However, some people claim that it does not produce smoky flavors as strong as charcoal smokers can. But, you can solve that by just changing the pellets you feed.
PROS
Set-and-forget grilling style
Easy to maintain and clean
Maintains consistent temperature easily
Easy to use
Highly versatile
CONS
Produce lighter smoke flavors
The unit needs to be plugged in all the time so the automatic auger runs
Expensive
Pellets can be hard to find unless you buy them online
Do You Really Need a Smoker Grill?
Smoker grills can be quite an investment, so I do understand the question. So, here is X reason to convince you to buy a smoker grill.
1. Authentic Taste
Do you love BBQ?
If yes, then the smoker grill will provide you a better BBQ!
Smoking preserves the genuine taste of the food on your grill, and you will not have any unnatural taste.
2. Versatile
Smoker grills are nothing more than a griller and smoker combined into one. But— it is a multifunctional piece of equipment that can serve the purpose of a griller, a smoker, a roaster, and more, depending on the type and model you choose.
3. Budget-Friendly
Uh-huh?
I just said that they are relatively not cheap. So why budget-friendly?
Upfront, smokers can be more expensive than regular grillers. But, in the long term, you will realize that having bought this grill and smoker combo has saved you a lot more money than buying single-purpose grilling equipment to complete your grilling set.
4. Smoooooky Flavors
Do I need to explain it further?
Just think about the smoky flavor of your traditional BBQ and imagine doubling— no— tripling that.
5. Preserve Nutrients
Because of the smoky crust and slow penetration of heat, your food's nutrients will be preserved. High heat is known to destroy the essential flavors and nutrients of the food you cook.
6. Juicy and Soft Meat
Want meat that you can slice through with a spoon?
Well, the long cooking hours and slow heat will turn even the most frozen meat into a fall-off-from-the-bone texture. A big plus, smokers, help preserve the juices of the heart, and cases of prolonged and struggled to chew on dry foods will be a thing of the past!
7. The Party Plus
You might say that you are an introvert, and this thing does not apply to your lifestyle. But, trust me when I say, one of these days you will be throwing a party. And outdoor parties without an option for grilling and smoking?
Well, you are rendering your party unentertaining there, bud. So avoid the disappointing looks of your guests and invest in one of these versatile beasts.
What Makes The Best Smoker Grill?
1. Construction
The materials that a smoker grill is constructed from should play a significant role in the product's price, quality, and longevity. Stainless steel smoker grills may look impressive; however, if you store and use the unit outside, it will rust relatively easily.
Look for a smoker grill with an enamel or quality coat of paint to last longer in such conditions.
2. Cooking Space
When looking for a smoker grill, the most important thing you need to decide is how much space you will need. These units are not one-size-fits-all. If you are regularly hosting a BBQ party, then go for larger ones. But if you only grill for your family, then you can go with standard sizes.
3. Shelving
Getting a smoker with shelves under is quite handy. It offers you the convenience to store firelighters, tongs, spare charcoals, grill brushes, covers, and other tools you need when cooking.
4. Secondary Racks
Having a secondary cooking rack can offer you extra cooking space, and on some units, you get at least 40 percent more cooking area.
This feature is essential with pellet and charcoal smokers, but this will depend on what you are cooking with gas and electric smokers.
5. Maneuverability
Are you going to grill in one spot in your backyard? Or maybe you have an expansive backyard where you can move your smoker around depending on the weather or where you wish to cook? Do you usually go fishing and camping and would like to take your grilling with you?
You can get various models of smoker grills that come on stands, poles, wheels, and even some which have adapters to fit the back of your car.
6. Cleaning
Like any kitchen tool, you must keep your grill tidy and clean. This should produce better food and extend the life of the unit. Cleaning a smoker grill can be difficult if you do not keep on top of it. But, you can find smoker grills with accessible cleaning features in order to make things easier for you.
7. Useful Features
Due to the innovation and advancement of technology today, you will find smoker grill models that do more than just cook grate over a wood fire. Smoker grills come in features like multiple temperature gauges, automatic feeders, remote control, and even Wi-Fi enabled! However, think about what you need before getting "Wowed" by all the fancy features out there.
8. Fuel
When buying smoker grills, you will need to consider the fuel you want to use. I have already explained to you the different types of smoker grills in the market today. If you wish for authentic smoky flavors, the charcoal smoker is the best. But if you want something easy and still offer you the heavenly taste of smoking, then pellet smokers, gas smokers, and electric smokers are your best bet.
The Top 5 Best Smoker Grill
*Below, you'll find our more detailed reviews, but you can also click the links above to see current prices or read customer reviews on Amazon.
 #1: Z Grills Wood Pellet Grill and Smoker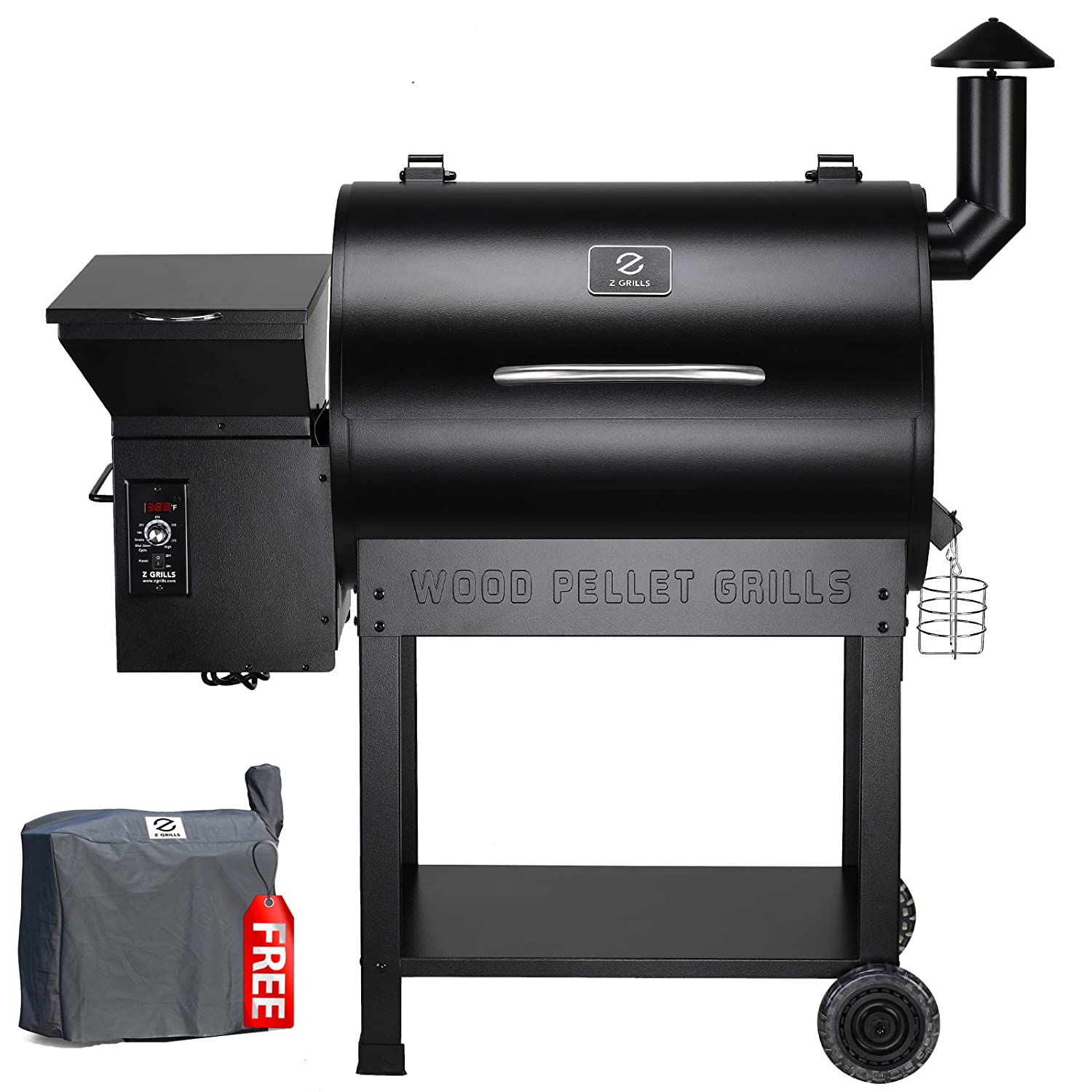 Thanks to its fan-forced convection cooking, it eliminates the need for a rotisserie so you can grill, bake, braise, and roast to your heart's content. The unit features an upgraded temperature setting allowing you to set cooking temperatures from 180°F – 475°F, as well as an upgraded pellet, feed control system which ignites the smoker grill.
Featuring an automated electric feed system, this smoker will maintain the heat for you and produce an optimal amount of smoke so you can go and have fun while it cooks. The smoker also comes with useful features such as LED temperature readout, Digital Auto Temperature Control, and Electronic AUTO-start Ignition, making things easier for you. The upgraded cart with locking caster wheels makes the unit easy to move, and the Special Waste Oil Collector assists in the easy and safe cleanup.
What We Like
8-in-1 smoker grill
Stainless steel construction
Wide grilling space
Adjustable temperature setting
Auto-start ignition
LED temperature readout
What We Don't Like
Very heavy
Inconsistent temperature
#2: Char-Griller Gas and Charcoal Grill
Every grill lover's dream is fulfilled— enjoy quick gas grilling on weekdays and slow charcoal cooking on the weekends with the Char-Griller Duo Gas and Charcoal Grill. Offering 1,260 square inches of smoking and BBQ grilling space, this smoker grill comes with heavy steel construction for durability and sturdiness.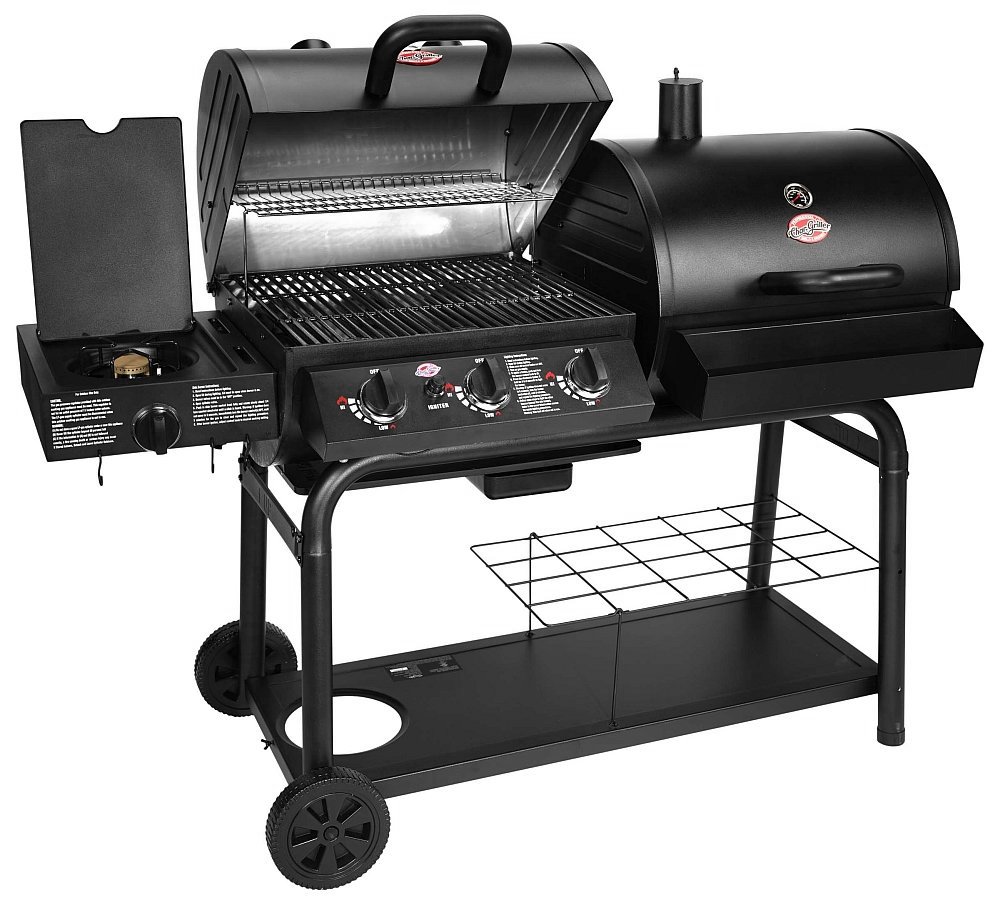 Charcoal for flavor, gas for convenience, warming racks, and a cast side burner for extra cooking capacity. Featuring porcelain-coated cast-iron grates, it provides an easy-to-clean surface and superior heat retention. The grille comes with electronic ignition, so you can start grilling with just a push of a button.
Also, it has an adjustable charcoal grate height that provides precise heat control for a hot or low and slow sear. This grate also doubles as a quick dump ash pan for a mess-free cleanup. Its double-bottom construction insulates and improves efficiency when you are cooking with charcoal. An included grate lifter also makes your life a bit easier when adding new charcoal. Lastly, the smoker boasts plenty of storage with a condiment basket and underneath shelf and movability with the added wheels.
What We Like
Gas and Charcoal Griller in one
Easy-to-clean cast-iron grates
Heavy steel construction
Plenty of storage
Good double-bottom construction
Wheels for maneuverability
What We Don't Like
Prone to rusting
The warranty does not cover rust
#3: Traeger Lil Tex Elite Smoker Grill
Craft fabulous wood-fired creations with the Lil Tex Elite Smoker Grill from Traeger. Its set-and-forget design allows even the busiest chefs to cook with ease, from smoked ribs to grilled steak and even baked apple pie.
The Lil Tex will surely be the center stage of your backyard cookout, featuring an aesthetic appeal of a Victorian Steampunk vibe. And although named "Lil Tex," do not belittle this beast with an offering of 418 square inches of grilling area— comfortably fit up to 5 racks of ribs, 24 hotdogs, four whole chicken, or 16 burgers in one go!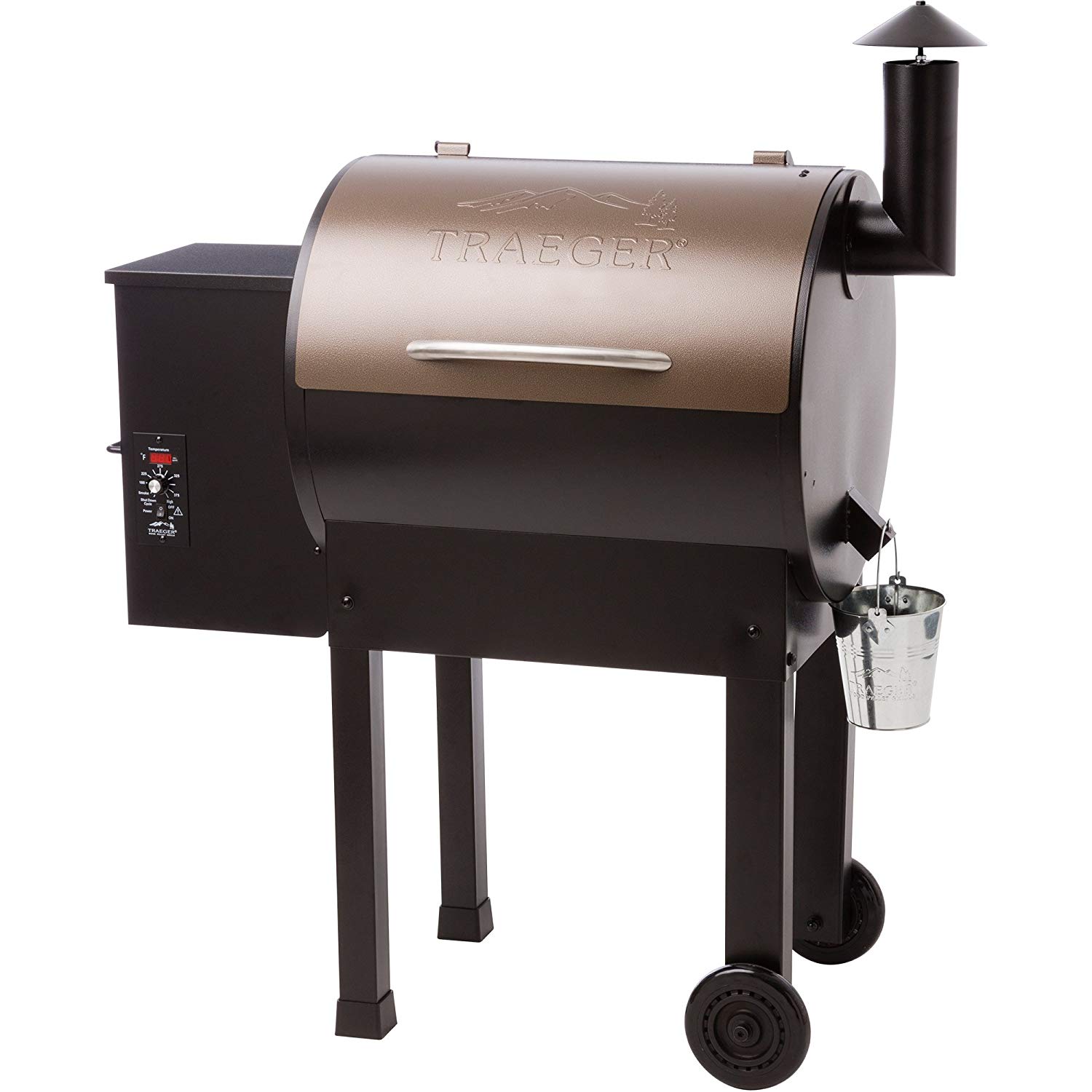 Never use charcoal or gas again; this one is a pellet smoker, so your food will get infused with that wood-fired flavor that you love. Low and slow or hot and fast, this smoker grill offers 6-in-1 versatility to braise, roast, bake, smoke, grill, and BBQ food to juicy and yummy perfection. And you do not need to deal with fire starters anymore; with a simple flip, this smoker grill is hot and ready to go! Its porcelain grill grates feature a non-stick surface for easy cleaning.
What We Like
Wide grilling area
Vintage aesthetic appeal
Non-stick grill grates for easy cleaning
6-in-1 function
What We Don't Like
#4: Camp Chef Woodwind Classic Pellet Grill
Is budget an issue? Then consider this Woodwind Classic Pellet Grill from Camp Chef. This smoker serves the budget and is large enough for big-sized BBQ parties with 570 square inches of grilling space. Honestly worth every penny!
This smoker comes with a sear box and a broad range of temperature choices from 160°F – 500°F as well as a 900°F for the sear box. Features Smart Smoke Technology, temperature control, and automatic auger feed pellet to the grill to maintain the heat and produce an optimal amount of smoke.
Braise, roast, bake, smoke, grill, and barbecue all you want with a touch of wood-fired flavor on every grill. When you're done, its Patented Ash Cleanout makes cleaning so easy all you need to do is pull a lever.
What We Like
Affordable
Smart Smoke Technology
Versatile
Patented Ash Cleanout
Includes a sear box
What We Don't Like
Inconsistent temperature
No refunds for faulty units
#5: Rec Tec Grills RT-700 Bull Portable Wood Pellet Grill
You can do some great grilling with this bad boy, but where it shines is its smoking ability! The best just got better when REC TEC introduced the "Bull," forever changing your grilling game! The Bull provides the same quality components and precision craftsmanship that Rec-Tec fans have grown accustomed to but with several innovative features and upgraded offerings that will blow your mind!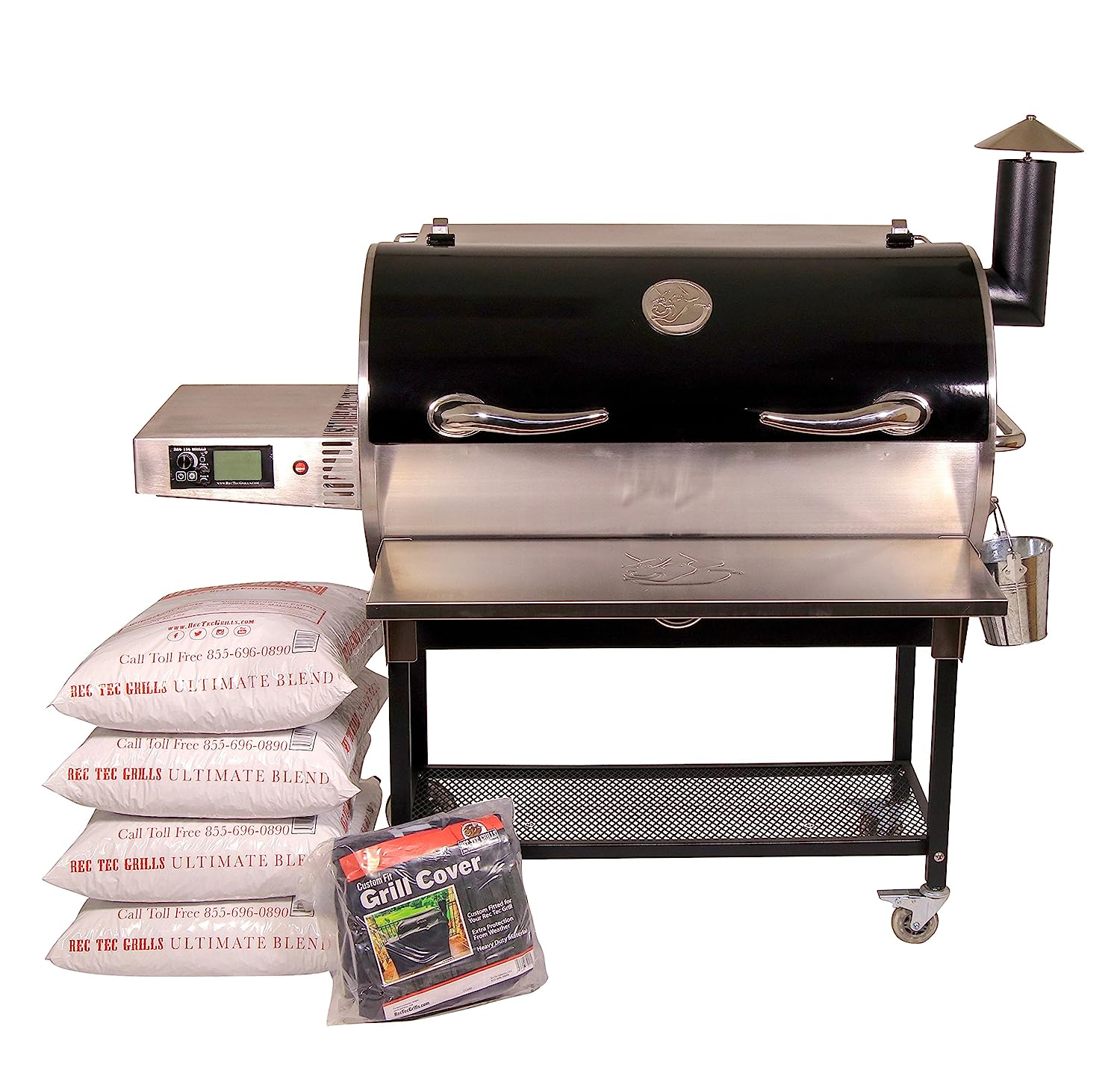 Featuring a cooking chamber made of stainless steel, you do not need to worry about peeling or cracking. For the geeky cooks, the included Wi-Pellet Wi-Fi technology will surely catch their attention. This feature allows you to fully control your cooking from anywhere using the Rec Tec Grills App, available in both Google Play Store and App Store.
Not only that, but this smoker also boasts dual meat probes, which can be plugged directly into the controller of the grill, so you will no longer need a cooking thermometer for monitoring. With the Temperature Controls Smart Grill Technology, the Bull maintains the temperature precisely, and with the Automatic Lighting feature, you will not need any unsafe fire starters to start grilling. Lastly, this smoker can also shut down automatically and enters into a cool-down mode with just a push of a button.
What We Like
Wi-Pellet Wi-Fi Technology
Dual meat probes
Temperature Controls Smart Grill Tech
Automatic Lighting
Automatic shutdown
Cool down mode
What We Don't Like
Limited mobility due to size
Very expensive
King of the Smoky Grills
And now we have a new royalty in town
I present to you the king of smoky grills
The Char-Griller Gas and Charcoal Grill!
Although we have some pretty competitive models, nothing will beat natural charcoal smoked meat. And if you run out of charcoal or maybe in a hurry, you can quickly grill up something with gas grilling.
But if you want something easy, I suggest you go with Rec Tec Grills RT-700 Bull Portable Wood Pellet Grill. Its innovative and techy features will undoubtedly provide you with all the convenience you need.
Smoky Thoughts
Producing nutritional, great-tasting, and tender-juicy meat has never been this easy. The smoker grill might sound like a façade to most people, but this baby is a blessing and a beast all in one, satisfying all your grilling and roasting, and barbecue needs!
Are you curious about something? Maybe itching to share some knowledge? Feel free to voice it up and hit the comment section below.
Until then, happy smoky grilling!