Looking for an easy spring craft for your preschooler? The Preschool Caterpillar Beanbag is simple and fun and very inexpensive to make. Using a tube or knee sock, pipe cleaners, and a bag of dried beans, your preschooler can help you make this fun and easy sock craft. You can bet this homemade caterpillar toy won't be thrown into the toy box anytime soon!
Materials You Will Need
Long tube or knee sock
32 oz bag of dried beans
8 rubberbands
Black shiny fabric paint
8 pipecleaners
½ cup measuring cup
Scissors
How to Make It

Step 1: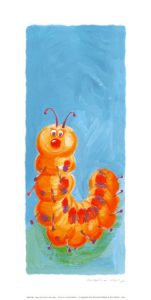 Hold the sock open while your preschooler measures out ½ cup of dried beans. Have him/her pour the beans into the sock.
Step 2:
Bunch the beans into a ball shape. Tightly wrap one of the rubber bands around the sock to "seal in" the beans. This will create the "head" of the caterpillar body.
Step 3:
Repeat Step 2 until all of the beans are gone. After the last segment of beans is sealed, finish off the caterpillar body with the last rubber band, wrapping it tightly and snipping off any excess sock material.
Step 4:
Feed one pipe cleaner into the bottom of each caterpillar body segment. Bend the pipe cleaner into the shape of an upside-down "V" and curl up the ends to prevent the pipe cleaner from slipping out, creating "feet". When you're done, it should look like the caterpillar has 14 legs.
Step 5:
Feed the last pipe cleaner into the top of the caterpillar head. Bend the pipecleaner into the shape of a "V" and curl up the edges to create antennae.
Step 6:
With the black shiny fabric paint, draw eyes and a mouth (don't forget to make him smile!) on the caterpillar's head. Allow to dry overnight before letting your preschooler play with this silly and fun caterpillar beanbag!