Preschool dads, big brothers, and sisters, or teachers will want to help young preschoolers with this adorable Mother's Day Preschool Photo Magnet. Using a small variety of crafts materials, this lovely craft magnet makes the perfect Mother's Day gift from a preschooler to his/her mommy!
Materials You Will Need
Four craft sticks
Light pink foam sheet
Dark pink foam sheet
Red felt square
Small and large white pom poms
White pipe cleaner
Two craft eyes
Red magic marker
Scissors
Tacky glue or hot glue
Photo of mommy and preschooler
Magnet
How to Make It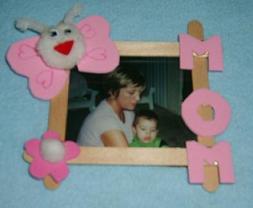 Step 1:
Glue together the four craft sticks in the shape of a square.
Step 2:
Cut the photo of mommy and preschooler to fit the square and glue into place from the back.
Step 3:
From the light pink foam sheet, cut out these shapes: two letter M's and one letter O, two identical heart shapes (for the butterfly wings). Snip off the pointed bottoms of the heart shapes. Glue the foam cut-outs into place as shown in the photo.
Step 4:
Cut out the shape of a small flower from the dark pink foam sheet. Glue into place on the photo frame as shown.
Step 5:
Glue the pom-poms into place as shown in the photo.
Step 6:
Cut a two-inch piece from the white pipe cleaner. Twist into the shape of antennae. Glue onto the large pom-pom as shown in the photo.
Step 7:
Glue the craft eyes and small mouth (from the red felt) onto the butterfly.
Step 8:
With the red magic marker, draw four heart shapes on the butterfly wings.
Step 9:
Glue the magnet onto the back of the Mother's Day Preschool Photo Magnet. Allow to dry and wrap up as a wonderful Mother's Day gift for your preschooler's mommy. When Mother's Day arrives, she can display on her refrigerator along with her preschooler's other handmade magnets!